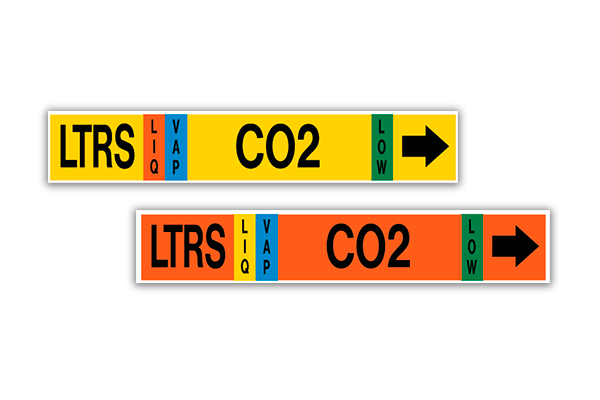 Ideal for cold storage areas, these markers are made from a premium self-adhesive material that allows them to be easily installed with proper surface preparation. The scored arrow conveniently eliminates the need to determine the direction of flow prior to ordering. 
UV Overlaminate can be added for protection against outdoor applications.
When selecting the size of the pipe diameter, remember to consider the insulation of the pipe as well. 
Prefer to send us a spreadsheet? Bulk Order Form
Product Overview
Self-adhesive
Simply clean and dry surface prior to installation
UV Overlaminate recommended for outdoor use
Orange or yellow background with black text
See Technical Data Sheet for detailed specifications
Made in the USA
Benefits / Features
UV Overlaminate provides excellent UV resistance
Easy installation with minimal surface preparation
Custom legends and bands available
Multiple sizes to fit your needs
Base Material
Premium-grade Thermoplastic w/ UV Overlaminate
Material Thickness
W/O UV Overlaminate: .004" (.1 mm) | W/ UV Overlaminate: .005" (.127 mm)
Service Temperature
50°F to 180°F (-45°C to 82°C)
Application Temperature
+50°F (10°C)
Chemical Resistance
W/O UV Overlaminate: Good | W/ UV Overlaminate: Excellent
Water Resistance
Excellent
Expected Outdoor Durability
W/O UV Overlaminate: Indoor Use Only | W/ UV Overlaminate: Very Good (Up to 5 Years)
Storage Durability
Up to 2 Years
MS-900 Self-Adhesive CO2 Pipe Markers
MS-900 Self-Adhesive Ammonia Pipe Markers
MS-995 Coiled CO2 Pipe Markers
MS-995 Carrier CO2 Pipe Markers
Base Material
Premium-grade Thermoplastic w/ UV Overlaminate
Material Thickness
W/O UV Overlaminate: .004" (.1 mm) | W/ UV Overlaminate: .005" (.127 mm)
Service Temperature
50°F to 180°F (-45°C to 82°C)
Application Temperature
+50°F (10°C)
Chemical Resistance
W/O UV Overlaminate: Good | W/ UV Overlaminate: Excellent
Water Resistance
Excellent
Expected Outdoor Durability
W/O UV Overlaminate: Indoor Use Only | W/ UV Overlaminate: Very Good (Up to 5 Years)
Storage Durability
Up to 2 Years
Base Material
Premium-grade Thermoplastic
Material Thickness
w/o UV Overlaminate: .004" (.1 mm) | w/ UV Overlaminate: .005" (.127 mm)
Service Temperature
50°F to 180°F (-45°C to 82°C)
Application Temperature
+50°F (10°C)
Chemical Resistance
w/o UV Overlaminate: Good | w/ UV Overlaminate: Excellent
Water Resistance
Excellent
Expected Outdoor Durability
w/o UV Overlaminate: Indoor Use Only | w/ UV Overlaminate: Very Good (Up to 5 Years)
Storage Durability
Up to 2 Years
Base Material
Polyester w/ Protective Top Layer
Material Thickness
.006" (.152 mm)
Service Temperature
-40°F to +250°F (-40°C to 121°C)
Application Temperature
+50°F (10°C)
Chemical Resistance
Excellent
Water Resistance
Excellent
Expected Outdoor Durability
Excellent (5+ Years)
Storage Durability
Up to 2 Years
Base Material
Carrier: Thick co-extruded material w/UV resistant coating | Label: Polyester
Material Thickness
Carrier: .100" (2.54mm) | Label: .003" (.076 mm)
Service Temperature
-40°F to 200°F (-40°C to 94°C)
Application Temperature
N/A
Chemical Resistance
Excellent
Water Resistance
Excellent
Expected Outdoor Durability
Excellent (5+ Years)
Storage Durability
Up to 2 Years