Upgrade your labeling with AIM (Asset Information Management) Technology, a user-friendly asset and document management application built for safer and more efficient operations. AIM allows users the ability to access critical documents and data, as well as perform procedures associated with the asset simply by scanning AIM Identification in the field. 
Critical Information On-Demand
Accessing critical information can be a difficult process when relying on physical copies, handwritten forms, and outdated processes. This leads to missing information, failed audits, operational inefficiency, and inconsistent data.
With AIM, all of your critical asset information can be accessed with a desktop or mobile device in a secure asset database. This allows service technicians and administrators the ability to access information in the field, at the site of an asset, or from a desktop anywhere in the world.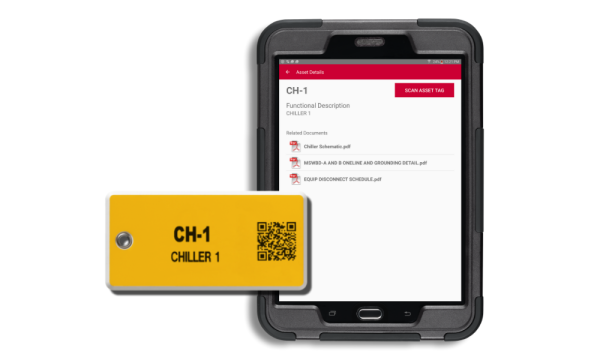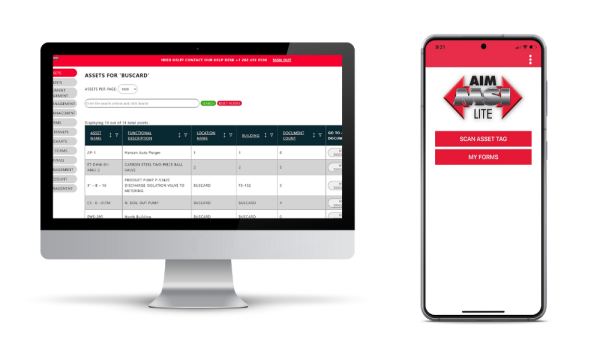 How Does it Work?
Once you've worked with our AIM Services team to build your database, you can simply download AIM from your device's app store and log in using your credentials. No software is required, as AIM is a cloud-based platform. 
In the field, our AIM Identification serves as a secure portal to your AIM Database. Simply scan the asset tag using your mobile device and your documents and forms will be available. 
For non-field use, your database is also available through a browser on your desktop. This allows administrative access to information such as completed forms, time-stamped checklists, and more. 
What Can I Put in the Database?
The AIM database can include anything that fits your needs. Commonly included items are:
Customized AIM Forms
Work Orders
Preventative Maintenance Orders
Rounds Forms
Inspection Checklists
Maintenance & Service Manuals
Schematics & Drawings
Warranty Information
Commissioning Reports
Build Your Database with AIM Services
Don't have time to manage the database yourself? No problem. Our AIM Services team is available to help you:
Locate & digitize documents
Perform field survey audits
Identify & validate assets
Install asset tags & labels
Validate & upload documents
Manage your database
Keep your database compliance ready
Build customized AIM Forms 
Manage assets & documents
Benefits & Advantages Of AIM
On-Demand 24/7 Access
AIM is available 24/7, allowing access to your documents and data at a moment's notice. 
Dual Capabilities
AIM can be utilized by either a mobile device or a desktop.
Cloud-Based App
AIM does not require any software to use, and does not charge for fees for users or maintenance. 
Secure Access
Unique QR codes on our intelligent asset identification serves as a secure portal to access your library. 
Customized Forms
AIM Forms can be custom built for procedures and processes and results can be accessed in real-time. 
AIM Services
We provide services and solutions to maximize operational efficiency.
The most important element of our operations is the regulatory requirements BCH must follow which focus on industry best practices and safe operations for our patients, which directly impact our patients' care. MSI's AIM Mobile Technology and Field Services provided the necessary tools for our operation's team to consistently maintain and operate equipment in the most efficient and effective manner."
Learn more about this service
Speak with a knowledgeable expert
Request a quote
Discuss specifications
Featured AIM Mobile Technology Case Study
Featured AIM Mobile Technology Blog