Our turnkey installation systematically installs permanent asset labeling without customers devoting personnel time or direct supervision. Our crews are experts at installing labels in a timely, consistent, and safe manner. 
Keep Your Facility Running Smoothly
Our installation crews of skilled experts function independently of client personnel. Focused solely on labeling, work can be completed in a timely, safe, and reliable manner.
Our installation crews have extensive safety training and are provided with the best equipment to ensure that a project is completed safely.
Our personnel have the experience and understanding of where pipe labels and valve tags are best placed to provide visibility and maximum value to customers.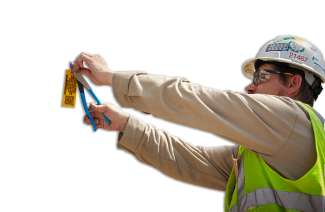 Reliable & Timely Installation
We have the experience to install in difficult areas in a timely manner. 
Special attention is paid to the unusual or inaccessible plant areas. Line tracing is emphasized to help simplify the process for operators. We come to the job prepared with the equipment to complete installation in areas that other contractors or in-house personnel would not easily have access to.

Since we manufacture and install the labeling, we have control over the installation schedule. If additions are required, they can be manufactured and installed without delay. Often, changes or punch list items can be handled immediately.