Our Material Take-Off Service produces savings and makes asset labeling an integral part of your project rather than a costly afterthought. We manage the take-off process to save you time & money. Our highly valued take-off service provides a smoother, more cost-effective process that allows our labels to be installed faster and with much less time & effort on behalf of the contractor.
Material Take-Off Process
Drawings and applicable specs are submitted
Drawings are marked and color-coded indicating location and style of marker 
Accurate bill of materials is produced
Labels are produced and packaged by specific request using our Pack-By Service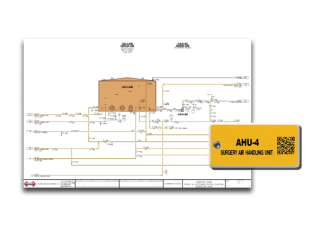 Sample Applications
Our Material Take-Off can be used for a wide variety of applications, including:
Electrical
Plumbing
HVAC
Fire Suppression
Mechanical
Pack-By Service
As an added bonus, when you use our Material Take-Off Service we will package your order using our Pack-By Service. Our Pack-By Service allows your order to be packaged by any specification desired, saving time and money during the installation process. Orders can be packaged by any specification required, including:
Building
Floor
Room
Material Type
Application
And more...
Also, see our Pack-By Binder that pre-sorts your labels saving you time and labor.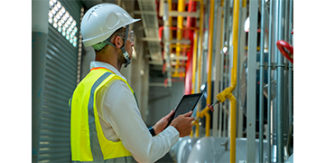 Digital Access To Your Drawings
Our value-added Take-Off Service includes digital access to marked drawings. You are able to access drawings in the field from your mobile device, simply by scanning the QR-codes on the MS-900 Label Sheets & Packing Slips with our AIM Mobile Technology App. By including this in our Take-Off Service we are able to further help reduce your in-place costs & increase ease of installation. Overall, this will provide more efficiency and accuracy to your installation process. 
Benefits & Advantages Of Our Material Take-Off Service
Quick Turn Around
Provide us the necessary documentation and we will complete the take-off process quickly and efficiently.
Saves Time
Our in-house engineers use project drawings and specifications to determine accurate material counts for your labeling needs.
Saves Money
Installation is more efficient and accurate and allows for quantity pricing. Products are packaged by area reducing the manpower required for implementation.
Ensures Accuracy
Prevents over/under-ordering of labeling and offers a seamless process from Take-Off to material installation.
Free
At MSI we value our customer's loyalty and offer our Take-Off service at no additional cost.
The Total Package
We'll deliver color-coded, marked project drawings for you to use as a road map for installation and package your products specific to your installation process.