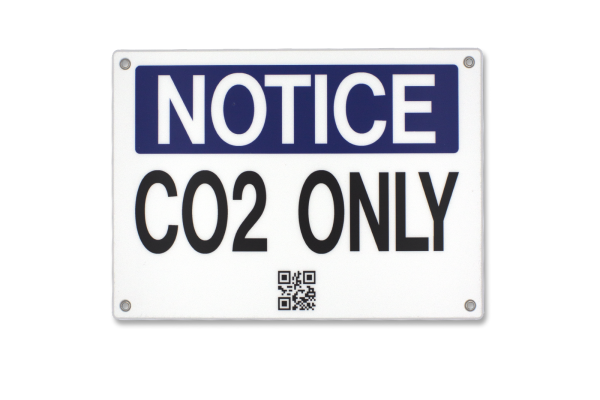 MS-215 identification signs can be used in a variety of ways including naming and numbering equipment, warning personnel of danger, conveying instructions, mapping facilities and more. Our MS-215 material has excellent outdoor life and chemical resistance, making it the ideal choice for harsh environments. Available in a variety of sizes and mounting options as a both a rigid and a flexible material, it can easily be installed to any piece of equipment. For curved surfaces the flexible material is recommended as it easily contours to the shape of the surface.
Prefer to send us a spreadsheet? Bulk Order Form
Product Overview
Rigid or flexible material available
Flexible is ideal for mounting on curved surfaces
Indoor or outdoor use
Multiple sizes available
Multiple mounting options available (dependent on material)
See Technical Data Sheet for detailed specifications
Benefits / Features
Excellent resistance to:

UV exposure
Chemicals
Water
Abrasion

Multiple colors, sizes, and designs available
Custom designs can include, graphics, logos, color combinations, etc.
Base Material
215R: Rigid Thermoplastic I 215F: Semi-Flexible Thermoplastic
Material Thickness
215R: 0.100" (2.54 mm) I 215F: .030" (.76 mm)
Service Temperature
-40°F to 200°F (-40°C to 93°C)
Application Temperature
W/ adhesive +50°F (10°C)
Chemical Resistance
Excellent
Water Resistance
Excellent
Expected Outdoor Durability
Excellent (5+ Years)
Storage Durability
W/ Adhesive - Up to 2 Years | W/O Adhesive - 5+ Years
Base Material
215R: Rigid Thermoplastic I 215F: Semi-Flexible Thermoplastic
Material Thickness
215R: 0.100" (2.54 mm) I 215F: .030" (.76 mm)
Service Temperature
-40°F to 200°F (-40°C to 93°C)
Application Temperature
W/ adhesive +50°F (10°C)
Chemical Resistance
Excellent
Water Resistance
Excellent
Expected Outdoor Durability
Excellent (5+ Years)
Storage Durability
W/ Adhesive - Up to 2 Years | W/O Adhesive - 5+ Years
Base Material
Micro-surface Impact Acrylic
Material Thickness
Standard: .0625" (1.6 mm) | Also available: .125" (3.2 mm)
Service Temperature
-20°F to 175°F (-29°C to 80°C)
Application Temperature
W/ adhesive +50°F (10°C)
Chemical Resistance
Excellent
Water Resistance
Excellent
Expected Outdoor Durability
Excellent (5+ Years)
Storage Durability
W/ Adhesive - Up to 2 Years | W/O Adhesive - 5+ Years
Base Material
Type 316 Stainless Steel
Material Thickness
22 Gauge (.030"/.762 mm)
Service Temperature
-40°F to 500°F (-40°C to 260°C)
Application Temperature
W/ adhesive +50°F (10°C)
Chemical Resistance
Excellent
Water Resistance
Excellent
Expected Outdoor Durability
Excellent (5+ Years)
Storage Durability
W/ Adhesive - Up to 2 Years | W/O Adhesive - 5+ Years
Base Material
Anodized Aluminum
Material Thickness
.032" (.812 mm)
Service Temperature
-200°F to 250°F (-128°C to 121°C)
Application Temperature
W/ adhesive +50°F (10°C)
Water Resistance
Excellent
Expected Outdoor Durability
Good (Up to 2 Years)
Storage Durability
W/ Adhesive - Up to 2 Years | W/O Adhesive - 5+ Years
Base Material
White Enamel Aluminum I Black Enamel Aluminum
Material Thickness
White Enamel Aluminum: .032" (.81 mm) I Black Enamel Aluminum: 0.040" (1.016 mm) I White Enamel Aluminum w/ UV Overlaminate: .033" (.84mm)
Service Temperature
-40°F to 180°F (-40°C to 83°C)
Application Temperature
W/ adhesive +50°F (10°C)
Chemical Resistance
White Enamel Aluminum: Good I Black Enamel Aluminum: Excellent I White w/ UV Overlaminate : Excellent
Water Resistance
Excellent
Expected Outdoor Durability
White Enamel Aluminum: Indoor Use Only I Black Enamel Aluminum: Excellent (5+ Years) I White Enamel Aluminum w/ UV Overlaminate: Excellent (5 + Years)
Storage Durability
W/ Adhesive - Up to 2 Years | W/O Adhesive - 5+ Years