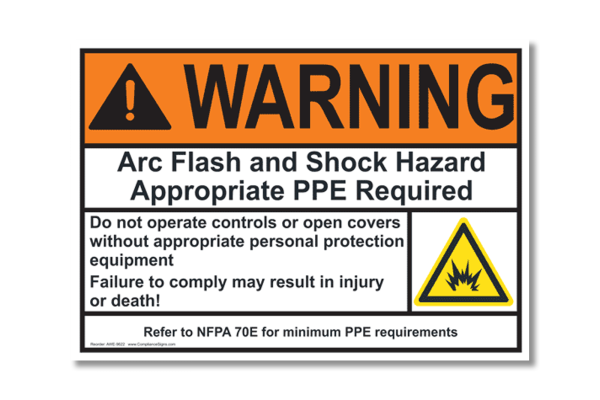 MS-900 Self-Adhesive Arc Flash Labels are designed to mark switchboards, panel boards, industrial control panels, meter socket enclosures, and motor control centers that require either examination or maintenance while energized. These self-adhesive labels provide electricians and staff with information to maintain plant and worker safety. The labels are made of premium grade material with an acrylic pressure-sensitive adhesive.
Customer to provide all artwork for the label. Labels comply with NFPA 70E, NEC Section 110 and OSHA safety standards.
Add UV Overlaminate for outdoor use.
Prefer to send us a spreadsheet? Bulk Order Form
Product Overview
MS-900 is a self-adhesive material designed for indoor use. UV Overlaminate can be added to the MS-900 material, making it an excellent option for outdoor application. For technical data please see the specifications table and technical data sheet below. 
Benefits / Features
Completely Customizable 
Self-Adhesive
UV Overlaminate Available
Enhances Personnel Safety
Base Material
Premium-grade Thermoplastic
Material Thickness
w/o UV Overlaminate: .004" (.1 mm) | w/ UV Overlaminate: .005" (.127 mm)
Service Temperature
-50°F to 180°F (-45°C to 82°C)
Application Temperature
+50°F (10°C)
Chemical Resistance
w/o UV Overlaminate: Good | w/ UV Overlaminate: Excellent
Water Resistance
Excellent
Expected Outdoor Durability
w/o UV Overlaminate: Indoor Use Only | w/ UV Overlaminate: Very Good (Up to 5 Years)
Storage Durability
Up to 2 Years
MS-900 Self-Adhesive Arc Flash Labels
MS-478 Self-Adhesive Arc Flash Labels
Base Material
Premium-grade Thermoplastic
Material Thickness
w/o UV Overlaminate: .004" (.1 mm) | w/ UV Overlaminate: .005" (.127 mm)
Service Temperature
-50°F to 180°F (-45°C to 82°C)
Application Temperature
+50°F (10°C)
Chemical Resistance
w/o UV Overlaminate: Good | w/ UV Overlaminate: Excellent
Water Resistance
Excellent
Expected Outdoor Durability
w/o UV Overlaminate: Indoor Use Only | w/ UV Overlaminate: Very Good (Up to 5 Years)
Storage Durability
Up to 2 Years
Base Material
Premium-grade Polyester w/ UV Overlaminate
Material Thickness
.003" (.076 mm)
Service Temperature
-50°F to 250°F (-45°C to 121°C)
Application Temperature
+32°F (0°C)
Chemical Resistance
Excellent
Water Resistance
Excellent
Expected Outdoor Durability
Excellent | 5+ Years
Storage Durability
Up to 2 Years