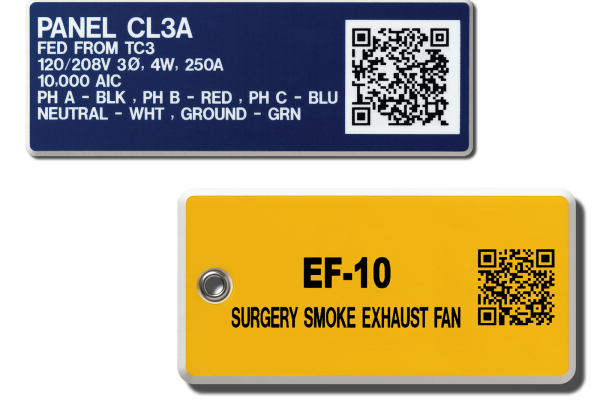 These tags are designed for labeling pumps, fans, air handling units, and other critical equipment. MS-215 tags are constructed of printed legends sealed between two layers of chemically resistant plastic. This sealed construction offers excellent resistance to chemicals, abrasion, and the fading effects of the sun. Used to label valves and systems, these high-performance tags protect the graphics from environmental conditions, making them the recommended choice for harsh environments.
Tags are available in both a rigid and a flex material. For curved surfaces, the flexible material is recommended as it conforms to the contour of the surface.
Prefer to send us a spreadsheet? Bulk Order Form
Product Overview
Available in rigid or flexible
Flexible material allows for installation on curved or uneven surfaces
For adhesive mounting, simply clean and dry the surface prior to installation
Can be used indoors or outdoors
See Technical Data Sheet for detailed specifications
Made in the USA
Benefits / Features
Excellent outdoor durability
Excellent chemical resistance
Durable material allows for use in harsh environments
Printed legends allow for complete customizability including legends, colors, sizes, designs, logos, etc.
Base Material
215R: Rigid Thermoplastic I 215F: Semi-Flexible Thermoplastic
Material Thickness
215R: 0.100" (2.54 mm) I 215F: .030" (.76 mm)
Service Temperature
-40°F to 200°F (-40°C to 93°C)
Application Temperature
W/ adhesive +50°F (10°C)
Chemical Resistance
Excellent
Water Resistance
Excellent
Expected Outdoor Durability
Excellent (5+ Years)
Storage Durability
W/ Adhesive - Up to 2 Years | W/O Adhesive - 5+ Years
Engraved Plastic Equipment Tags
Stainless Steel Equipment Tags
Enameled Aluminum Equipment Tags
Base Material
215R: Rigid Thermoplastic I 215F: Semi-Flexible Thermoplastic
Material Thickness
215R: 0.100" (2.54 mm) I 215F: .030" (.76 mm)
Service Temperature
-40°F to 200°F (-40°C to 93°C)
Application Temperature
W/ adhesive +50°F (10°C)
Chemical Resistance
Excellent
Water Resistance
Excellent
Expected Outdoor Durability
Excellent (5+ Years)
Storage Durability
W/ Adhesive - Up to 2 Years | W/O Adhesive - 5+ Years
Base Material
Micro-surface Impact Acrylic
Material Thickness
Standard: .0625" (1.6 mm) | Also available: .125" (3.2 mm)
Service Temperature
-20°F to 175°F (-29°C to 80°C)
Application Temperature
W/ adhesive +50°F (10°C)
Chemical Resistance
Excellent
Water Resistance
Excellent
Expected Outdoor Durability
Excellent (5+ Years)
Storage Durability
W/ Adhesive - Up to 2 Years | W/O Adhesive - 5+ Years
Base Material
Type 316 Stainless Steel
Material Thickness
22 Gauge (.030"/.762 mm)
Service Temperature
-40°F to 500°F (-40°C to 260°C)
Application Temperature
W/ adhesive +50°F (10°C)
Chemical Resistance
Excellent
Water Resistance
Excellent
Expected Outdoor Durability
Excellent (5+ Years)
Storage Durability
W/ Adhesive - Up to 2 Years | W/O Adhesive - 5+ Years
Base Material
White Enamel Aluminum I Black Enamel Aluminum
Material Thickness
White Enamel Aluminum: .032" (.81 mm) I Black Enamel Aluminum: 0.040" (1.016 mm) I White Enamel Aluminum w/ UV Overlaminate: .033" (.84mm)
Service Temperature
-40°F to 180°F (-40°C to 83°C)
Application Temperature
W/ adhesive +50°F (10°C)
Chemical Resistance
White Enamel Aluminum: Good I Black Enamel Aluminum: Excellent I White w/ UV Overlaminate : Excellent
Water Resistance
Excellent
Expected Outdoor Durability
White Enamel Aluminum: Indoor Use Only I Black Enamel Aluminum: Excellent (5+ Years) I White Enamel Aluminum w/ UV Overlaminate: Excellent (5 + Years)
Storage Durability
W/ Adhesive - Up to 2 Years | W/O Adhesive - 5+ Years