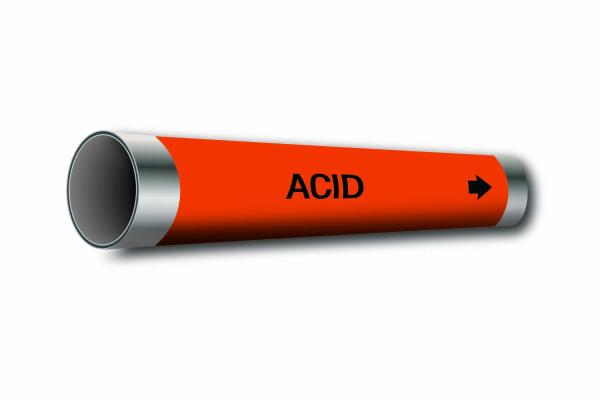 MS-970 Coiled Pipe Markers are designed for indoor environments where high heat and harsh chemicals are not present. Constructed of a semi-rigid material, they are designed to identify piping in a wide variety of environments, including rough, oily, or wet surfaces. They stay in place on pipes due to the memory of the coiling process and therefore do not rely on adhesives.
Pre-Set options comply with ASME A 13.1 "Scheme for the Identification of Piping Systems" regarding label colors, overall size, and text height.
When selecting the size of the pipe diameter, remember to consider the insulation of the pipe as well. 
Prefer to send us a spreadsheet? Bulk Order Form
Product Overview
Able to be installed on rough, wet, or oily surfaces
Indoor use only recommended
Not ideal for harsh environments
Able to be removed and reinstalled
Pre-set options comply with ASME A13.1
View Tech Data Sheet for detailed specifications
Made in the USA
Benefits / Features
Semi-rigid coiled design snaps around pipe
No surface preparation required
Adheres directly to itself
Wide variety of pre-set options
Customizable
Base Material
Premium-grade Thermoplastic
Material Thickness
.020" (.508 mm) | .015" (.38 mm)
Service Temperature
40°F to 160°F (4°C to 71°C)
Application Temperature
+50°F (10°C)
Chemical Resistance
Excellent
Water Resistance
Excellent
Expected Outdoor Durability
Indoor Use Only
Storage Durability
Up to 2 Years
MS-970 Coiled Pipe Markers
MS-995 Coiled Pipe Markers
MS-995 Carrier Pipe Markers
MS-975 Coiled Pipe Markers
Base Material
Premium-grade Thermoplastic
Material Thickness
.020" (.508 mm) | .015" (.38 mm)
Service Temperature
40°F to 160°F (4°C to 71°C)
Application Temperature
+50°F (10°C)
Chemical Resistance
Excellent
Water Resistance
Excellent
Expected Outdoor Durability
Indoor Use Only
Storage Durability
Up to 2 Years
Base Material
Polyester w/ Protective Top Layer
Material Thickness
.006" (.152 mm)
Service Temperature
-40°F to +250°F (-40°C to 121°C)
Application Temperature
+50°F (10°C)
Water Resistance
Excellent
Chemical Resistance
Excellent
Expected Outdoor Durability
7+ Years
Storage Durability
Up to 2 Years
Base Material
Carrier: Thick co-extruded material w/UV resistant coating | Label: Polyester
Material Thickness
Carrier: .100" (2.54mm) | Label: .003" (.076 mm)
Service Temperature
-40°F to 200°F (-40°C to 94°C)
Application Temperature
n/a
Chemical Resistance
Excellent
Water Resistance
Excellent
Expected Outdoor Durability
5+ Years
Storage Durability
Up to 2 Years
Base Material
Premium-grade Thermoplastic
Material Thickness
Coil .005" (.127mm) I Strap-on .10" (.254mm)
Service Temperature
-40°F to +180°F (-40°C to 82°C)
Application Temperature
+50°F (10°C)
Water Resistance
Excellent
Chemical Resistance
Excellent
Expected Outdoor Durability
4+ Years
Storage Durability
Up to 2 Years