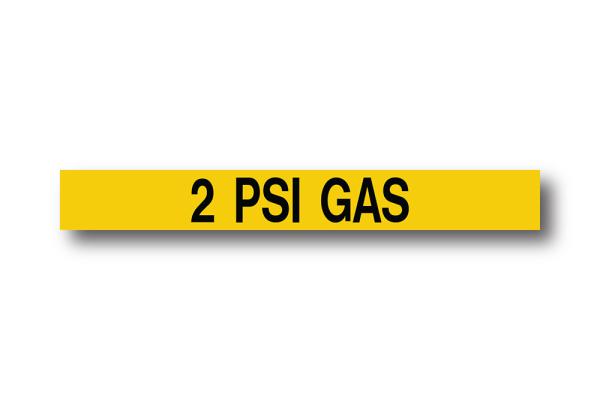 MS-900 Self-Adhesive Pipe Markers are printed on premium quality, fade-resistant material and are used to provide line service designations, system color-coding, or various labeling needs. For easy installation, they are designed to adhere well to pipe and insulation with only limited surface preparation. Pre-Set MS-900 Markers comply with ASME A 13.1 "Scheme for the Identification of Piping Systems" regarding label colors, overall size, and text height. Flow directional arrow tape or individual arrow markers should be used with pipe markers to indicate the direction of flow.
Add UV Overlaminate for outdoor use. (Custom only) 
Prefer to send us a spreadsheet? Bulk Order Form
Product Overview
MS-900 Self-Adhesive Pipe Markers are an easy solution to effectively provide identification for pipe contents. We have a variety of pre-set options to choose from, as well as custom legends and colors. While the base MS-900 material is recommended for indoor use only, a durable UV Overlaminate can optionally be added on for outdoor applications. 
Benefits / Features
Self-Adhesive 
UV Overlaminate available for outdoor use
Customizable
Pre-set options comply with ASME A13.1
Base Material
Premium-grade Thermoplastic
Material Thickness
w/o UV Overlaminate: .004" (.1 mm) | w/ UV Overlaminate: .005" (.127 mm)
Service Temperature
-50°F to 180°F (-45°C to 82°C)
Application Temperature
+50°F (10°C)
Chemical Resistance
w/o UV Overlaminate: Good | w/ UV Overlaminate: Excellent
Water Resistance
Excellent
Expected Outdoor Durability
w/o UV Overlaminate: Indoor Use Only | w/ UV Overlaminate: Very Good (Up to 5 Years)
Storage Durability
Up to 2 Years
MS-900 Self-Adhesive Pipe Markers
MS-995 Coiled Pipe Markers
MS-995 Carrier Pipe Markers
MS-970 Coiled Pipe Markers
MS-900 Economy Pipe Markers
Base Material
Premium-grade Thermoplastic
Material Thickness
w/o UV Overlaminate: .004" (.1 mm) | w/ UV Overlaminate: .005" (.127 mm)
Service Temperature
-50°F to 180°F (-45°C to 82°C)
Application Temperature
+50°F (10°C)
Chemical Resistance
w/o UV Overlaminate: Good | w/ UV Overlaminate: Excellent
Water Resistance
Excellent
Expected Outdoor Durability
w/o UV Overlaminate: Indoor Use Only | w/ UV Overlaminate: Very Good (Up to 5 Years)
Storage Durability
Up to 2 Years
Base Material
Polyester w/ Protective Top Layer
Material Thickness
.006" (.152 mm)
Service Temperature
-40°F to +250°F (-40°C to 121°C)
Application Temperature
+50°F (10°C)
Water Resistance
Excellent
Chemical Resistance
Excellent
Expected Outdoor Durability
Excellent | 5+ Years
Storage Durability
Up to 2 Years
Base Material
Carrier: Thick co-extruded material w/UV resistant coating | Label: Polyester
Material Thickness
Carrier: .100" (2.54mm) | Label: .003" (.076 mm)
Service Temperature
-40°F to 200°F (-40°C to 94°C)
Application Temperature
n/a
Chemical Resistance
Excellent
Water Resistance
Excellent
Expected Outdoor Durability
Excellent (5+ Years)
Storage Durability
Up to 2 Years
Base Material
Premium-grade Thermoplastic
Material Thickness
.020" (.508 mm) | .015" (.38 mm)
Service Temperature
40°F to 160°F (4°C to 71°C)
Application Temperature
+50°F (10°C)
Chemical Resistance
Excellent
Water Resistance
Excellent
Expected Outdoor Durability
Indoor Use Only
Storage Durability
Up to 2 Years
Base Material
Premium-grade Thermoplastic
Material Thickness
.004" (.1 mm)
Service Temperature
-50°F to 180°F (-45°C to 82°C)
Application Temperature
+50°F (10°C)
Water Resistance
Excellent
Expected Outdoor Durability
Indoor use only
Storage Durability
Up to 2 Years