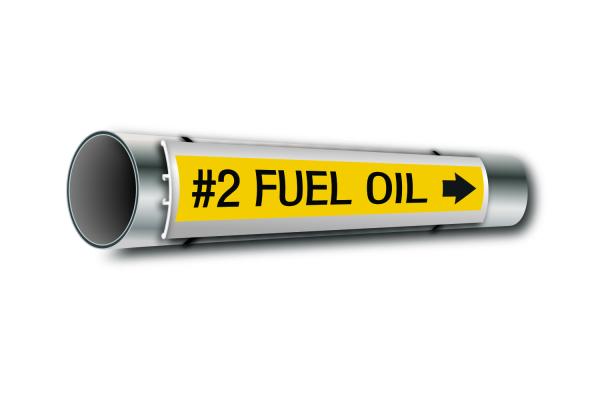 MS-995 Carrier Pipe Markers are a strap-on type pipe marker consisting of a pipe label applied to a rigid curved carrier. The curved surface allows for less UV exposure and maximum legibility. It may be used in all applications where the pipe outside diameter is ¾" or greater.
Carriers are furnished with two nylon feet that sit off of the pipe surface. The nylon feet may be installed onto the pipe prior to attaching the carrier or installed onto the carrier assembly before mounting on the pipe allowing for maximum installation flexibility. The pre-applied carrier label is furnished with a durable laminate providing maximum protection against ultraviolet light hydrocarbons, acids, bases, and most solvents. 
Pre-set options comply with ANSI 13.1.
When selecting the size of the pipe diameter, remember to consider the insulation of the pipe as well. 
Prefer to send us a spreadsheet? Bulk Order Form
Product Overview
Stainless steel strapping recommended for mounting
For pipes ¾" or bigger
For indoor & outdoor use
See Technical Data Sheet for detailed specifications
Made in the USA
Benefits / Features
Curved surface allows for less UV exposure and maximum legibility
Excellent chemical and water resistance
An ideal option for harsh environments
Customizable legends and sizes
Comes with 2 nylon slotted feet 
Feet allows the carrier to sit off of the pipe surface
Base Material
Carrier: Thick co-extruded material w/UV resistant coating | Label: Polyester
Material Thickness
Carrier: .100" (2.54mm) | Label: .003" (.076 mm)
Service Temperature
-40°F to 200°F (-40°C to 94°C)
Application Temperature
n/a
Chemical Resistance
Excellent
Water Resistance
Excellent
Expected Outdoor Durability
5+ Years
Storage Durability
Up to 2 Years
MS-995 Carrier Pipe Markers
MS-995 Coiled Pipe Markers
MS-970 Coiled Pipe Markers
MS-900 Self-Adhesive Pipe Markers
Base Material
Carrier: Thick co-extruded material w/UV resistant coating | Label: Polyester
Material Thickness
Carrier: .100" (2.54mm) | Label: .003" (.076 mm)
Service Temperature
-40°F to 200°F (-40°C to 94°C)
Application Temperature
n/a
Chemical Resistance
Excellent
Water Resistance
Excellent
Expected Outdoor Durability
5+ Years
Storage Durability
Up to 2 Years
Base Material
Polyester w/ Protective Top Layer
Material Thickness
.006" (.152 mm)
Service Temperature
-40°F to +250°F (-40°C to 121°C)
Application Temperature
+50°F (10°C)
Water Resistance
Excellent
Chemical Resistance
Excellent
Expected Outdoor Durability
7+ Years
Storage Durability
Up to 2 Years
Base Material
Premium-grade Thermoplastic
Material Thickness
.020" (.508 mm) | .015" (.38 mm)
Service Temperature
40°F to 160°F (4°C to 71°C)
Application Temperature
+50°F (10°C)
Chemical Resistance
Excellent
Water Resistance
Excellent
Expected Outdoor Durability
Indoor Use Only
Storage Durability
Up to 2 Years
Base Material
Premium-grade Thermoplastic
Material Thickness
w/o UV Overlaminate: .004" (.1 mm) | w/ UV Overlaminate: .005" (.127 mm)
Service Temperature
-50°F to 180°F (-45°C to 82°C)
Application Temperature
+50°F (10°C)
Chemical Resistance
w/o UV Overlaminate: Good | w/ UV Overlaminate: Excellent
Water Resistance
Excellent
Expected Outdoor Durability
w/o UV Overlaminate: Indoor Use Only | w/ UV Overlaminate: Very Good (Up to 5 Years)
Storage Durability
Up to 2 Years