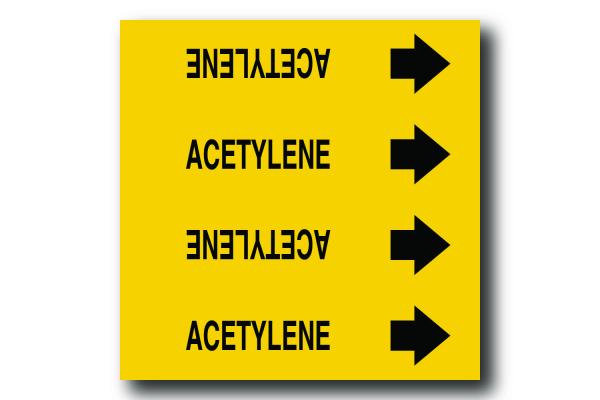 MS-900 Self-Adhesive Small-Bore Markers are printed on a premium quality durable material and are used to provide line service designations, system color-coding, or various other labeling requirements on piping less than 1" in diameter. Legend and flow direction arrows are combined onto 1 marker. Roll contains 100 markers (3" x 3"). 
Pre-set MS-900 Markers comply with ASME A 13.1.
Add UV Overlaminate for outdoor use.
Prefer to send us a spreadsheet? Bulk Order Form
Product Overview
Self-adhesive
Simply clean and dry the surface prior to installation
For use on piping less than 1" in diameter
See Technical Data Sheet for detailed specifications
Made in the USA
Benefits / Features
Legend and directional arrow are combined onto the marker
Easy installation with minimal surface preparation
Customizable 
Roll contains 100 markers (3" x 3")
Add UV Overlaminate for outdoor use
Base Material
Premium-grade Thermoplastic
Material Thickness
w/o UV Overlaminate: .004" (.1 mm) | w/ UV Overlaminate: .005" (.127 mm)
Service Temperature
-50°F through 180°F (-45°C through 82°C)
Application Temperature
+50°F (10°C)
Chemical Resistance
w/o UV Overlaminate: Good | w/ UV Overlaminate: Excellent
Water Resistance
Excellent
Expected Outdoor Durability
w/o UV Overlaminate: Indoor Use Only | w/ UV Overlaminate: Very Good (Up to 5 Years)
Storage Durability
Up to 2 Years
MS-900 Self-Adhesive Small-Bore Markers
MS-995 Coiled Pipe Markers
MS-970 Coiled Pipe Markers
MS-900 Self-Adhesive Pipe Markers
Base Material
Premium-grade Thermoplastic
Material Thickness
w/o UV Overlaminate: .004" (.1 mm) | w/ UV Overlaminate: .005" (.127 mm)
Service Temperature
-50°F through 180°F (-45°C through 82°C)
Application Temperature
+50°F (10°C)
Chemical Resistance
w/o UV Overlaminate: Good | w/ UV Overlaminate: Excellent
Water Resistance
Excellent
Expected Outdoor Durability
w/o UV Overlaminate: Indoor Use Only | w/ UV Overlaminate: Very Good (Up to 5 Years)
Storage Durability
Up to 2 Years
Base Material
Polyester w/ Protective Top Layer
Material Thickness
.006" (.152 mm)
Service Temperature
-40°F to +250°F (-40°C to 121°C)
Application Temperature
+50°F (10°C)
Water Resistance
Excellent
Chemical Resistance
Excellent
Expected Outdoor Durability
Excellent | 5+ Years
Storage Durability
Up to 2 Years
Base Material
Premium-grade Thermoplastic
Material Thickness
.020" (.508 mm) | .015" (.38 mm)
Service Temperature
40°F to 160°F (4°C to 71°C)
Application Temperature
+50°F (10°C)
Chemical Resistance
Excellent
Water Resistance
Excellent
Expected Outdoor Durability
Indoor Use Only
Storage Durability
Up to 2 Years
Base Material
Premium-grade Thermoplastic
Material Thickness
w/o UV Overlaminate: .004" (.1 mm) | w/ UV Overlaminate: .005" (.127 mm)
Service Temperature
-50°F to 180°F (-45°C to 82°C)
Application Temperature
+50°F (10°C)
Chemical Resistance
w/o UV Overlaminate: Good | w/ UV Overlaminate: Excellent
Water Resistance
Excellent
Expected Outdoor Durability
w/o UV Overlaminate: Indoor Use Only | w/ UV Overlaminate: Very Good (Up to 5 Years)
Storage Durability
Up to 2 Years